With a healing, your horse is examined to the core through energy therapy. Your horse gets an energetic check of the chakras and energy flows in their body. With the healing I can help your horse to rediscover their inner horsepower. And your horse can even stay in their own trusted location.
Would you wish for your horse to have (preventice) support with, for example: 
restoration of the inner balance;
letting go of (un)conscious blockages;
improving and deepening the relationship with you;
the acceptance of changes;
the elimination of stress, fear, gloom, restlessness and traumas;
emotional and mental problems;
the recovery of injuries and pain relief;
(undesirable) behavior within the herd, in the stable, at competitions, etc.;
a move, change of owner or herd mates;
homesickness and sadness.
What does a in-person healing entail?
During a healing I work with the healing energy that flows from my hands, with the molecular memory and the chakra points of the horse. Chakras are wheels of energy that are perceived in different parts of the body. They are associated with emotional, physical, mental and spiritual health. The physical and energetic bodies are closely linked. With a healing, the balance in the chakras is restored and it helps to restore inner balance. If your horse experiences an energetic blockage in the cell memory or a chakra, they can experience physical, emotional or mental complaints. By applying healing, I look at all layers of the (energetic) body that your horse needs.
The relaxation/release signals that horses can give immediately or shortly after the session are:
yawning
licking
rolling
chewing
urinating or defecating
passing gas
stamping with their feet
bucking, rearing or biting can also occur
In the image below I have indicated what the chakra points are called, what color they are and where the chakras are located in horses. During a session I deal with these points, but I also pay attention to other signals that your horse gives me. This way the whole body gets the attention it deserves.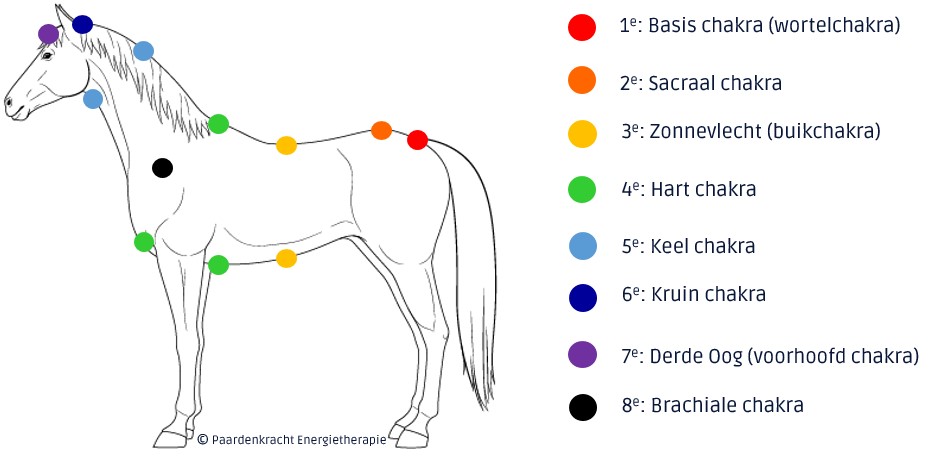 "I had no idea what healing was. With the help of Myrthe, I experienced a very deep mutual connection with my pony during the session. Summer and I seemed to be surrounded by a cloud of warmth, light and love. All the ballast surrounding our communication was removed and what remained was light, simple and beautiful. The heaviness was gone. Now I knew what healing was. We were healed of thinking, interpreting and doing. When Summer and I were done she arched her entire topline and straightened up, sucking in air. Then she let the air escape with a bang, her body completely relaxed. After that she looked bigger, healthier, shinier and rounder. Insane! It was a wonderful experience to feel our connection so uncomplicated. Thank you Myrthe! You brought us there with your peace and calmness."
Practical information
For a in-person session, I think it is important that the horse is in a pleasant environment for him/her. This can be a paddock, grooming area, lunge area, stable/stable corridor, arena or something similar. Furthermore, your horse requires to wear a bridle with a lead rope. Being able to work undisturbed and dry (with a roof over our heads or outside when it's not raining) is very nice for you, your horse and myself. As soon as the temperature drops below 5 degrees or above 25 degrees, the session is moved to another moment, because I work with my bare hands and otherwise it will be either too cold or too hot.
Before the session starts, I will talk to you about the points of attention you have. After the session, we will discuss whether and when the follow-up treatment for your horse will take place and how quickly you want to follow it up after the session of this day. Healing can also be used preventively or simply because it relaxes your horse as part of your horse's overall wellness program.
€
75,-
/

incl. VAT, excl. travel expenses
A session at your location of approximately 1 hour;

Energetic healing for removing (un)conscious blockages, beliefs and/or traumas;

A check for the general functioning, the cooperation and flow between the chakras;

The harmony in the energy flows are viewed;

Replace old, excess or negative energy for new, clean and healing energy;

Discussion of the session and advice about a follow-up appointment.
Travel and travel expenses
The travel costs are calculated as standard return. I base this on the fastest route using Google Maps, from Raalte to your location: I travel worldwide.
I can generally handle a maximum of 4 horses per day. Are there several horses that could benefit from a session on location, for example at a stable, riding school or several horses at your home? Fantastic! Let's discuss the possibilities together.
Discount
Additional horse for the same owner: €65,-
Canceling a session
Canceling a session can be done free of charge up to 48 hours prior to our agreed time, by telephone or by e-mail. Cancellations or changes not communicated within this time period will be charged for 50% by means of an invoice.

In-person healing
With this form you can easily apply for an in-person session. Please leave your contact details and I will contact you as soon as possible.